RoadSafe Traffic Systems, Inc. Presents at 3M's New Product Expo
RoadSafe Traffic Systems, Inc. Presents at 3M's New Product Expo
May 30, 2018
Chicago, IL – May, 22, 2018–A 3M tradition for over 60 years, the annual New Product Expo showcases recently commercialized technologies from across all of 3M's business groups. A premier happening sponsored by 3M's Tech Forum, this year's event featured several exciting presentations from customers including RoadSafe's CEO and President, David Meirick. Other 3M customers included Boeing, Toro, General Mills, NIST, Hitachi and Microsoft.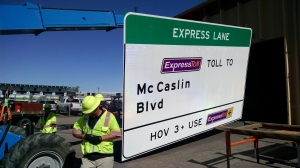 According to Gina Buccellato, 3M's Transportation Safety Division Technical Director, "3M's new product development is first and foremost driven by the needs of our customers and ways that 3M can help them be even more successful. We were very appreciative to have an industry leader like RoadSafe's David Meirick address our technical community during 3M's recent New Product Expo. Hearing directly from customers like Mr. Meirick really helps to increase our outside-in perspective." Meirick commented, "RoadSafe has a great partnership with 3M's Transportation Safety Division spanning 30 years or more. Their outstanding products that include sheeting for signage and other traffic safety products as well as pavements markings, combined with their customer support are second to none in the transportation industry. From our field crews to executive levels, we have a great working relationship resulting in better training, networking and product support."
About RoadSafe Traffic Systems, Inc.
RoadSafe Traffic Systems, Inc. is the nation's largest provider of traffic safety and pavement marking services and innovative safety products to heavy highway, building and specialty contractors, State DOT's, local governments, special events organizations, U.S. railroads and utility companies.
---