RoadSafe Expands Operations in Tennessee
RoadSafe Expands Operations in Tennessee
January 30, 2019
Chicago, IL (January 30, 2019) RoadSafe Traffic Systems, the nation's largest provider of traffic safety services and products, announced today that their Industrial Services Group (ISG) has expanded operations in the Knoxville, Tennessee area. What started in 2018 with two RoadSafe crews handling temporary traffic control and protection services for a Knoxville area utility company has expanded to significantly more utility-related work and additional work with a highway lighting contractor selected to retrofit area streetlights.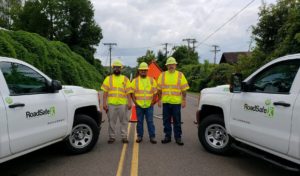 According to Ron Foose, RoadSafe's Director of ISG Operations in the East, "We are now up to twelve crews and counting in this new branch. RoadSafe provides overall safety services, including flagging operations using automated flagger assistance devices (AFAD) in order to reduce worker exposure on roadways. We are also handling lane and shoulder closure set-ups so our customers can focus on their work, leaving the work zone safety to RoadSafe. Our lighting contractor customer is changing street lights from high-pressure sodium lights to LED. This is resulting in a great deal of temporary closures and flagging operations as well, so the branch has grown significantly in a very short amount of time." 
With the increased volume of work, RoadSafe set up branch operations just outside of Knoxville in Powell, Tennessee, with James Langford as Lead Project Manager, a 20-year veteran in traffic safety.
About RoadSafe Traffic Systems, Inc.
RoadSafe Traffic Systems, Inc. is the nation's largest provider of traffic safety and pavement marking services and innovative safety products to heavy highway, building, and specialty contractors, State DOTs, local governments, U.S. railroads, and utility companies.
---