RoadSafe and Pennsylvania Supervisor Honored with Department of Defense Awards
RoadSafe and Pennsylvania Supervisor Honored with Department of Defense Awards
April 27, 2019
Chicago, IL—(April 23, 2019) RoadSafe Traffic Systems announced today that Daniel Papapanu of RoadSafe's Watsontown, PA branch was recently honored by the DOD's Employer Support of the Guard and Reserve (ESGR) with a Patriot Award in recognition of his extraordinary support of employees serving in the Pennsylvania Guard and Reserve. Following presentation of the Patriots Award, DOD's Pennsylvania State Chair honored RoadSafe with the Seven Seals Award, in recognition of companies that support the armed forces.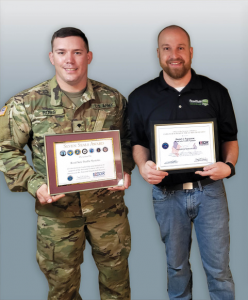 Matthew Ross, of the Army Reserve and a RoadSafe employee in Watsontown, nominated Daniel for the Patriot Award for being highly supportive of his military career. Daniel commented, "I am very honored to receive the Patriot Award. Being in a position to employ and support our men and women in the armed forces has been very rewarding. My own sister served in the US Navy and is now a civilian contractor, so supporting our military hits very close to home. Roadsafe goes the extra mile and recognizes how important it is to recruit active reserve personnel and our veterans, so I will continue to support these efforts on behalf of my company."
According to William Burkhard, Pennsylvania's North Central Area Chair of the ESGR, "The Patriot Award was created by ESGR to publicly recognize individuals who provide outstanding patriotic support and cooperation to their employees, who, like the citizen warriors before them, have answered their nation's call to serve. The Seven Seals Award is presented in recognition of significant individual or organizational achievement, initiative, or support that promotes and supports the ESGR mission which is to encourage employment of Guardsman and Reservists who bring integrity, global perspective and proven leadership to the civilian workforce."
About RoadSafe Traffic Services, Inc.
RoadSafe Traffic Systems, Inc. is the nation's largest provider of traffic safety and pavement marking services and innovative safety products to heavy highway, building and specialty contractors, State DOT's, local governments, U.S. railroads and utility companies.
---