RoadSafe Traffic Systems, Inc. Announces New Industrial Services Group
RoadSafe Traffic Systems, Inc. Announces New Industrial Services Group
June 26, 2018
Chicago, IL–June 22, 2018–RoadSafe Traffic Systems has announced the formation of a new Industrial Services Group that focuses specifically on railroad and utility market customers. In today's challenging roadway environment with more traffic congestion and distracted drivers, just two risk factors of many, private companies as well as government groups are looking for better ways to keep their workers safe while ensuring the safety of the motoring public, bicyclists and pedestrians in and around their work zones. Formation of the new Industrial Services Group was necessitated due to the rise in demand by railroad and utility groups for reliable traffic safety experts who can keep their workers safe and handle the work zone requirements for emergency work, repair, maintenance and construction operations. Customers include both public and private entities for power generation, telecommunications and railroad companies as well as those contractors and engineer.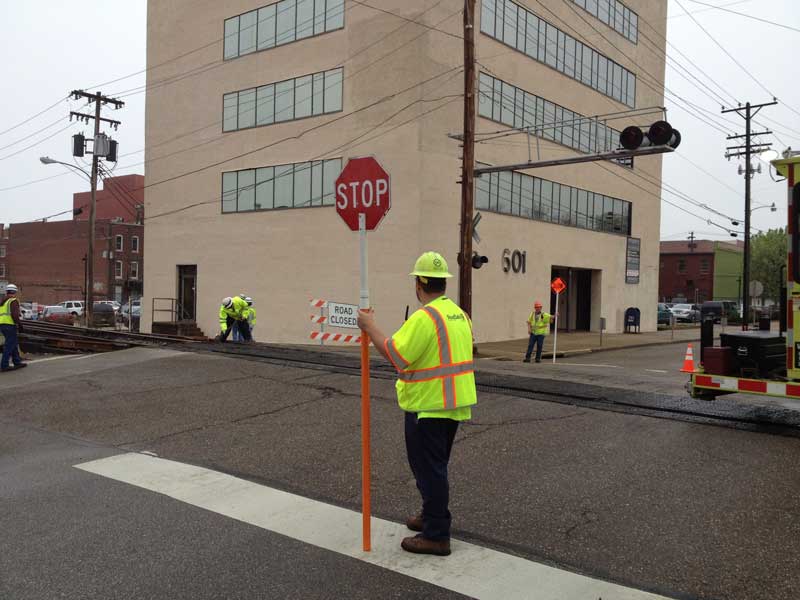 According to Brendan Kissane, Chief Development Officer, "I think the key to our success in working with these customers is not only our stellar safety record but it's about our ability to mobilize RoadSafe's trained and certified crews wherever necessary and deploy equipment from our vast network of branches and satellite locations in the lower 48 states."
RoadSafe has two business development experts who work with new customers and prospects to provide safe solutions for any challenging set of circumstances in order to minimize risk in work zones. They are Jeff Meirick from the Phoenix, AZ branch serving the Western portion of the U.S. and Chris Layton from the Columbia, SC branch serving the Eastern portion. Services include set-ups for lane and road closures, detours, flagging operations, emergency traffic safety, temporary signage, traffic safety design—anything that's required for optimum safety on the job. Kissane further added, "I'm very excited to bring these talented individuals into the Industrial Services Group. They have extensive experience working with highly successful sales organizations and possess traffic safety industry knowledge. Their addition to our team will bring a new dimension to our national footprint and allow us to grow partnerships across the United States."
About RoadSafe Traffic Systems, Inc.
RoadSafe Traffic Systems, Inc. is the nation's largest provider of traffic safety and pavement marking services and innovative safety products to heavy highway, building and specialty contractors, State DOT's, local governments, special events organizations, U.S. railroads and utility companies.
---