Denver-Metro Area Drivers Benefit from Wider More Visible Pavement Markings
Denver-Metro Area Drivers Benefit from Wider More Visible Pavement Markings
October 21, 2019
RoadSafe Traffic Systems, the nation's largest provider of traffic safety products and services, is working in the Denver-Metro area on a large project that will improve the visibility of pavement markings for motorists on approximately 3,000 lane miles. This Colorado Department of Transportation (CDOT) Region I project will provide safer driving conditions for motorists by increasing the width of pavement lane line markings from 4 inches to 6 inches on all skip and edge lines. For any sections of roadway that are concrete, the project calls for 6-inch-wide contrast black shadow markings following 6-inch-wide white lane line markings. This contrast improves visibility of traveled lanes allowing for easier navigation by the motoring public.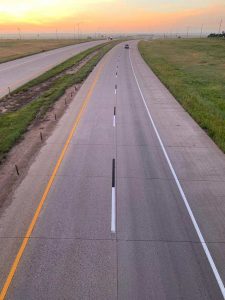 According to Jay Tisdall, Vice President of RoadSafe's Pavement Marking Division, "This multi-year project is all interstate work with crews installing high performance pre-formed plastic tape manufactured by 3M. We groove the skips and then apply the tape into the cuts with a drivable cart followed by a truck which tamps it into place. The tape is slightly recessed in order to avoid damage by snowplows. The product provides excellent reflectivity and retained visibility in all weather conditions which is critical in this mountainous climate."
Pavement markings in use today are made with long-lasting materials installed with state-of-the-art techniques and measured with appropriate test methods that have evolved with time. 3M representative, Ted Denisuk commented, "Given the myriad of new and improved products and application methods over the years, traffic safety companies, like RoadSafe, work hand-in hand with our support teams to make sure that pavement marking products succeed. Both parties and the DOT always work to ensure proper application in conditions that will promote long term success."
The Federal Highway Administration cites one of the most important aspects of a safe and efficient roadway is the uniform application of pavement markings to delineate the roadway path and specific traffic lanes. The objective is to keep drivers on the road and in their intended lanes in order to reduce the number of roadway departures and side swipes. For this project and for those across the country, the use of wider pavement markings provides increased target value and improved delineation for all drivers.
Shane Chevalier of CDOT stated, "This work is being performed under an initiative to upgrade from 4-inch to 6-inch markings. New markings will provide enhanced delineation on our roadways for the traveling public. Moving forward, this is the new standard statewide. The shadow markings are an option statewide but are a standard in Region 1 on all roadways 50 m.p.h. and above. Our region has determined that the shadow marking provides a better contrast value than the traditional contrast marking."
About RoadSafe Traffic Systems, Inc.
RoadSafe Traffic Systems, Inc. is the nation's largest provider of traffic safety and pavement marking services and innovative safety products to heavy highway, building and specialty contractors, State DOT's, local governments, U.S. railroads and utility companies.
---